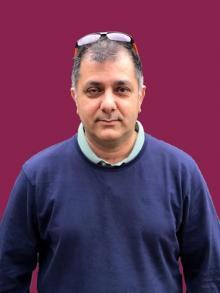 NCCC Members Board Representative
NCCC Board Rep Result Update:
I'd like to thank my campaign management team, twitter followers and fellow @NorthantsCCC supporters..

we finished a close 2nd.. we put up a good fight but no cigar !

Well done Fred it's club that matters, best of luck in the role.



Supporter Profile:
I am a passionate supporter of Northants, I was a junior members in the 80's. However due to work I've lived in Nottingham since 1993. I have always proudly supported the Tudor Rose. I recently (Dec 17) moved back to Northampton with the intention of spending the summer months at Wantage Road. I am a Life Member as well as a shareholder and I am keen to help ensure Northants first class status is maintained when the ECB's franchise T20 model in launched.

Cricketing Background:
My cricketing skills never achieved higher then social. Whilst in Nottingham I regularly played village cricket and also played indoor cricket 2-3 times a week in both Nottingham and Derby. In my indoor team I was the weakest link in a team which included a couple of then Notts academy lads and future Northants players, Dave Lucas and Bilal Shafayat. I would often play against some Notts & Derby players, my claim to fame was getting Usmal Afzzal caught at slip and hitting Kim Barnett for six (he bowled me next ball!).

Work Background:
I have a background in finance and more recently in web development. In 1993, I moved to Nottingham to work for Mansfield Brewery as a Management Accountant (CIMA qualified). In my time at the brewery I had a variety of roles, reporting directly to the Chairman, Finance, Commercial, Production and Properties Directors. I prepared financial appraisals for pub acquisitions, beer production and transport & distribution costings and also the accountant responsible for evaluating a loan book of approx £35 million worth of free trade loans to circa 1000 pubs. I was also involved in Mansfield's purchase of several McManus pubs in Northampton in the mid-90's. In 2000, I was made redundant when Wolverhampton & Dudley (now rebranded as Marston's) bought Mansfield. I am still in contact with my former brewery directors and they will be able to vouch for my finance and analytical skills.

Following redundancy I retrained as web developer and have been self employed as freelance web developer (www.webalert.info) for the last 18 years. Within my web development role I have focused on database management, creating a bespoke content management system with the emphasis on search engine optimisation. I take pride in creating a business partner relationship with my site owners rather then a simple customer/client one.

Whilst this is probably outside the role required, over the years I have gained a significant knowledge in web server management and I would be able to offer quite a lot of web hosting/development advice to help run the clubs website.

Availability: to attend meetings / sub-committees
I would be available to attend meetings pretty much most of the time. As I'm self employed I don't have any fixed work time-slots, plus I now live within 15 minutes walking distance to ground. I've envisaged that I would need to be available to attend both Board meetings as well having meetings with members so that I can get their views and give them feedback from Board meetings. I would plan on creating a members / shareholders ebulletin to help streamline the communications between myself and the members. I would also look to set-up some online surveys to get a broader view of members opinion as & when matters that arise over time.

NCCC Members Board Representative