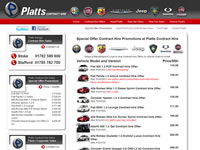 Platts Contract Hire
Platt's Fleet and Corporate Sales Team specialise in the supply and finance of all Fiat Group cars and vans. Platts Grarage Car and Van Franchises include the following brands Fiat, Alfa Romeo, Jeep, Chrysler, Abarth and Fiat Professional (LCV). Backed by over 70 years motor trade experience, Platt's Garage Ltd are the premier Fiat Group dealership in the country. We offer a wide choice of car and commercial leasing options as well as outright purchasing solutions to companies, business users and private individuals.
This website has had the "Full WebAlert Service ... and Runs on Slicks" A fully intregrated backend CMS system, giving Platts full stearing control of their website !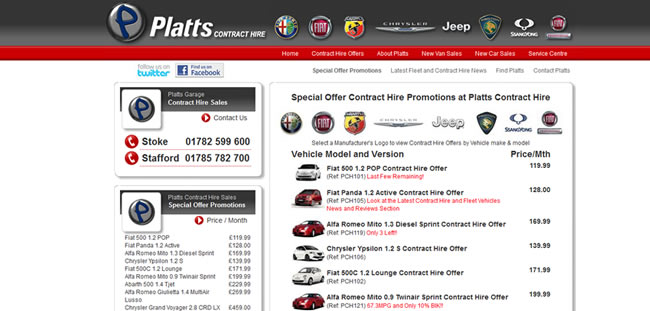 Platts Contract Hire Cars, Vans and Fleet Vehicles - click here
Home to Contract Hire, Leasing and Supply of Cars and Vans
Platts Contract Hire. Leased Cars, Vans and Fleet Vehicles